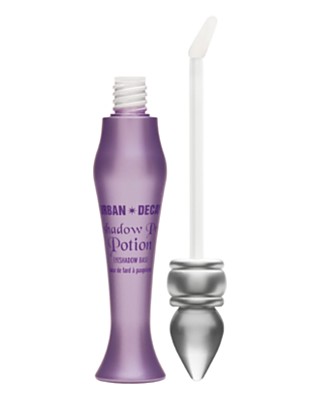 Urban Decay's Primer Potion
is probably my all time favourite beauty find. It's, as the name suggests, a primer for your eyes. In the past I have had issues with eye shadow creasing a bit by the end of the day. I am not a big fan of having to so touch up throughout the day so ideally I want my makeup to stay put.
Applying the PP under my shadow means that not only do I have a nice smooth base to work on but also that the colours shows up amazingly and stay put all day. Plenty of people online recommended this stuff but it wasn't until I saw the results for myself that I was hooked, it really does work!
My only issue with it is the stupidly shaped tube it comes in, guaranteed when you think you have run out and none is coming from the tube on the applicator you will still have more than half left, the shape of the packaging means the majority of it gets trapped in the curves of the bottle. Simple solution though, saw it open and store the remains in a little pot! That way you use all the product and save yourself from buying a new one way too soon. There are tutorials all over the web on how to do the sawing so I won't go into it.
On the whole, one of my wonder products that I would never be without.